On History
The early middle ages, or dark ages as they are often referred to—romanticized by the writer's pen or computer nowadays, but in reality a brutal time for all but a privileged few. Yet even then, and with the rudimentary tools of their time, gifted people fashioned objects of incredible craftsmanship and beauty, finely incised and decorated with costly jewels. Some from the 11th century and earlier.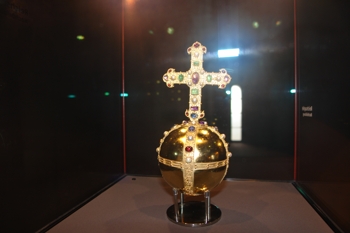 at Trifels Castle
On our occasional travels this is what we seek out first; the museums and galleries with their rich offerings of stunning artifacts. The immense naves of churches, abbeys and cathedrals, with soaring spires reaching toward heaven, hundreds of years old, many even a thousand and more. Who fashioned them? Who built them? Master craftsmen by any account. Stand inside the Blue Mosque in Istanbul, look up and gasp at the awe inspiring beauty.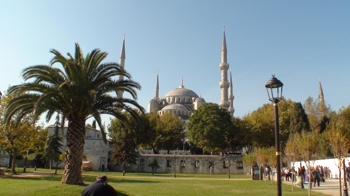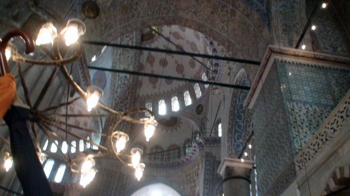 Haya Sofia mosque or Blue mosque ceiling or other

The cathedrals of Cologne or Strasbourg or any other in the old cities in Europe. And in a totally different way—the Mayan Pyramids of the Americas.
...


To be sure, I am more than happy not to have lived in those days. But it is fun to conjure up these stories, like fairy tales of a different kind. One can always dream, I suppose.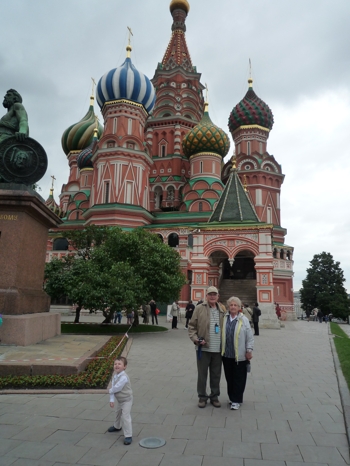 St. Basil's in Moskow





Dare I mention the role of women during the middle ages? To be sure, they were often maligned—then again, quite a few women in our times fare little better. Almost daily, the various media report on murder, rape and violence, not only in third-world countries but right here in our relatively progressive society. Really—is there any difference?

Contrary to some literature, the ordinary husband and wife perforce had to co-operate with each other to eke out their meagre living. The concept of the housewife, staying at home to look after her family, did not truly exist in those days. That began much later with or after the industrial revolution. And the sordid era of witches was still a few hundred years away.

However, there were quite a few women of great renown. Healers and herbalists. Founders of abbeys and cloisters. Poets and great courtesans, fostering the arts at their various castles. It was also women who owned much of the properties, inviting avaricious eyes. No surprise there. Many married more than once. Husbands often died at an astonishing rate during their many 'wars' and skirmishes, in reality thinly disguised raids on someone elses' property. Thus was created the domes day book of Henry II. And the 'law' to offer a choice of three prospective husbands to an unmarried or widowed female with property.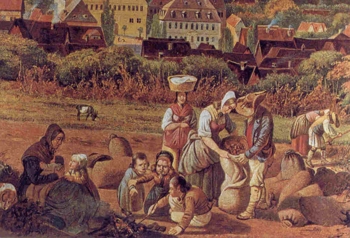 A scene from everyday life of the time



As for Richard,
his ransom amounted to 150 000 Marks in silver or plate as they called it. Much of it was used to open the mint in Austria. And Richard wasn't really incarcerated; he was often seen riding the hunt with Henry V, emperor of the Holy Roman Empire.
At his release in 1194 another 60 hostages of high nobility were obliged to come to Germany, where they spent a number of years at the king's residence. One was Berengaria's brother Fernando. They brought much French culture with them, among it the manuscript 'Lancelot' by Hugo von Morville. Thus the legend of King Arthur came to Germany and beyond. A few hostages also stayed with Leopold, Duke of Austria.As for Richard,


And Leopold?
The pope of the time, Celestine III, had decreed, upon pain of excommunication, that all pilgrims, returning from Palestine were to be given unmolested passage to their homeland. In spite of the pope's dire threats, Duke Leopold of Austria did kidnap Richard. Two years later he fell off his horse, broke a leg and died a miserable death. Accident? Fate? Well. let's not go there.






Meet 'Raven', Julian's magnificent stallion.
Today's Percheron is not very different from that of the Middle Ages. They were often used as war horses, bred to be powerful, tall, and imposing, but the war horse of medieval times was more compact, enabling them to maneuver quickly in tight places during battles.
Andalusian and Friesian breeds of horses are also of historical importance when discussing war horses.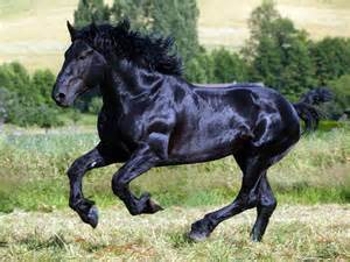 Picture of a black Percheron


Trifels
This is the castle with a minor role in Julian's story. It came into Emperor Henry V possession. Richard Lionheart spent about two years here. More about that in the novel. By 1500 Trifels had lost all significance. Later the ruins were rebuilt. Around 1937/38 after much research it was rebuilt to its present appearance.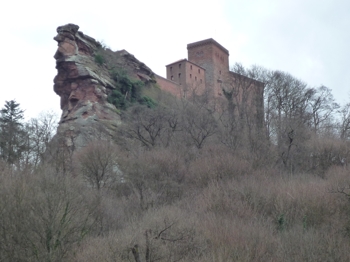 Picture of Trifels castle
Left-turning stairs:
I mentioned left-turning stairs in the novel. This is what they look like. Invaders, most being right-handed, entering the castle from below with swords as the standard weapon of the time, were hard-pressed to wield them effectively.
Defenders, coming from above, had ample room to use their weapons.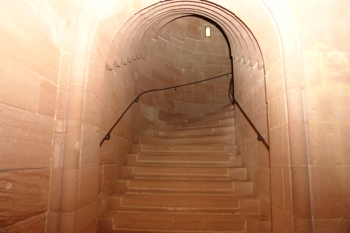 Picture of stairs.